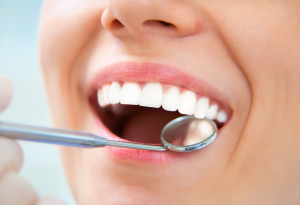 Fillings
We are pleased to tell you we are a mercury-free dental office that offers only tooth-colored composite fillings. This better alternative is more attractive than the amalgam counterpart, it looks natural in your mouth, and it requires less removal of healthy tooth structure. These composite fillings are used to treat tooth decay, chipped teeth, broken teeth, and for closing spaces. For larger fillings we also offer same-day tooth-colored porcelain inlays and onlays.
Same Day Porcelain Crowns
A dental crown protects and strengthens tooth structure that cannot be restored with fillings or other types of restorations. It is a tooth-shaped "cap" that is placed over a tooth — to cover the tooth and to restore its original shape, size, and strength. Our remarkable CEREC technology allows us to eliminate messy impressions, temporary crowns, and avoids the second appointment. With our cutting edge technology we can prepare, construct and place the tooth-colored porcelain crown all in one visit. These crowns are sturdy, durable, and most esthetically pleasing.
Porcelain Bridges
Porcelain bridges are able to permanently replace a space where teeth are missing. We prepare the teeth on either side of the gap for crowns. A mold of your teeth is sent to a lab where they create two crowns bridged together with an artificial tooth. We then place and adjust this bridge to fit comfortably. This non-removable option looks, feels, and functions like natural teeth.
Dental Implant Restoration
A dental implant is a remarkable solution for restoring a missing tooth and can serve as a foundation for removable dentures. Dental implants look, feel, and function like natural teeth. A titanium post is surgically placed in the jaw bone to help preserve facial structure and prevent bone deterioration that occurs with missing teeth. A replication of the tooth is attached to the post to complete the process.
Dentures
Dentures are removable substitutes for missing teeth. Both partial and complete dentures are created to custom-fit and restore the areas of missing teeth. Dentures may improve chewing and speech and also prevent facial sagging by providing support for the cheeks and lips.
Hybrid Prosthesis
Do you have a failing dentition? Are you tired of your denture not fitting? Replace your teeth with a non-removable implant option. Schedule an appointment today for a consultation to see if you are a candidate for a hybrid prosthesis.